FirsthandFitness
Strength & Conditioning | Fitness & Wellness | Individualized & Personalized

About Me
Committed to fitness, I have developed a lifestyle that has become a foundation
from which to flourish and thrive...
The path to well being involves will power, commitment and proper guidance. The results are always worth the journey. Together, i will set you on the right path to ensure the highest success rate.


My Work

Having worked with thousands of individuals from different walks of life, ages and fitness backgrounds, I have developed a mastery in human mechanics, movement and postures.

Using strength training, I prepare your inner athlete for ultimate performance, so you can move the best way you were designed to.
Testimonials
"..I found it to be fun and effective.." - Itmar Lopez
"..knows how and when to push you to the next level.." - Michel Rondeau
"..thanks to his training i improved my last marathon by 11 minutes.." - Alex Galin

"..no two workouts are the same." - Colin Sawford

"..a holistic approach to fitness and health: cardio, strength, flexibility and agility. A rare expertise in the fitness business" - Pierre-Philippe Lortie
Powered by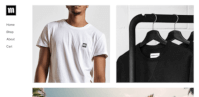 Create your own unique website with customizable templates.